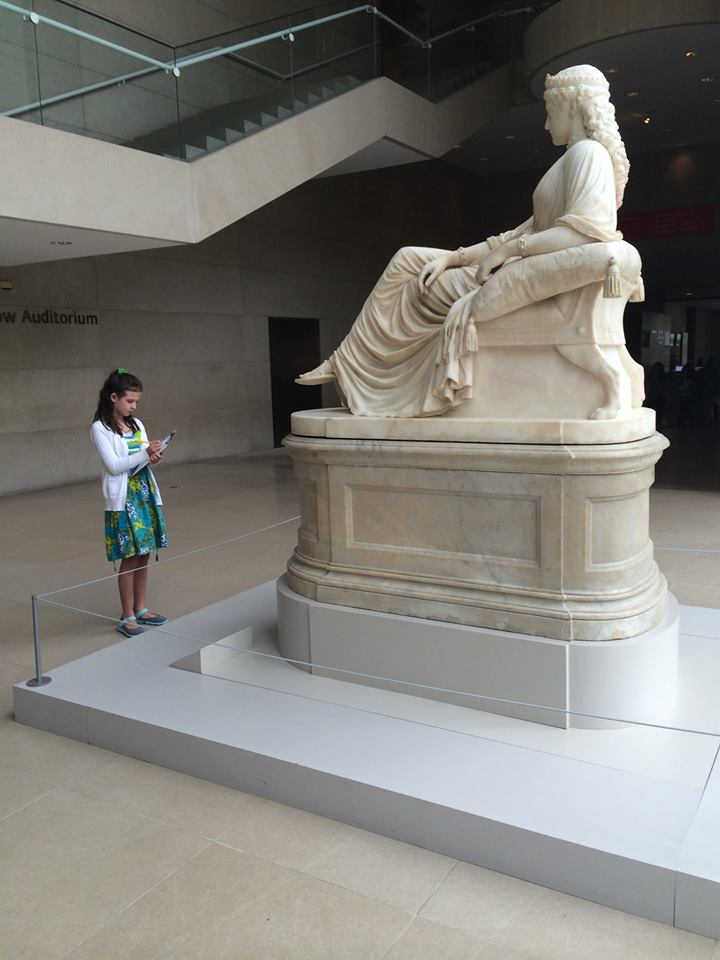 For a lot of people the terms "arts and culture" and "kids " might not seem like they go together.  The idea of dragging an unwilling child around a gallery or museum is far from appealing. And although a musical or dance performance might hold Junior's attention for a while, when the sand in the kid hourglass runs out, it can get ugly. Just the idea of having to remove a screaming child from a concert hall has made more than a few parents put off the arts until their little chalupas are in high school.
Let me put your mind at ease. We're very lucky we live in an area that's bursting at the seams with art. There's literally something for everyone–and that includes the tinies. Add to that, plenty of arts organizations and venues tailor-make their activities with the small set in mind. They're colorful, interesting, interactive and engaging. Far from being boring, they'll make an art-lover out of your kiddo.
Don't believe me? Dip your pinky-toe into one of these arts-related activities going on this weekend.
Lucky you! This Saturday marks the beginning of Dallas Arts Week and that means there will be arts galore going on in very corner of our fair city.  NorthPark Center will be celebrating the works and life of Henri Matisse at the ArtRocks! event. Kids can learn all about the famous artist and create their own Matisse-inspired masterpiece with KidArt Dallas. At 2 p.m. our pals from Bookmarks will present Maricela and her Singing Puppets, a puppet show, story time and sing-a-long.
Speaking of hands-on-art-appreciation, be sure to check out ColorPalooza this Saturday at Old Town Lewisville.  In addition to the skilled artists making one-of-a kind sculptures and paintings, the littles can leap into a wide variety of exhibits and interactive events at this "spring feel" festival. They can create a sidewalk chalk drawing, make a tie-dye shirt, or just stop by one of hands-on art stations. Admission is free, but some activities might carry a nominal charge.
If you'd like to introduce your kids to the symphony, you're in luck! Everyone's favorite wascally wabbit will be at Fort Worth's Bass Performance Hall this weekend for Bugs Bunny at the Symphony. See cartoon classics like, "What's Opera, Doc?," "The Rabbit of Seville," and "Rhapsody Rabbit" on the big screen while accompanied by the Fort Worth Symphony Orchestra. Be sure to get there early for photos with Bugs and Daffy who will be in the lobby. Also, there will be special prizes for the first 50 people who arrive.
Elementary school-aged children can explore art through dance and painting at a workshop this Saturday at the Modern Museum of Fort Worth. The activities will be led by the museum and Texas Ballet Theater and will focus on works by Robert Motherwell from the Modern's collection. The program is free but space is limited so be sure to sign up in advance.
Theater for kids doesn't come any better than the shows at the Dallas Children's Theater, and their current production of The Miraculous Journey of Edward Tulane is no exception. The story is performed with just five actors–one of whom doubles as the narrator–and minimal staging, but it will leave you very satisfied. The tale of the vain, heartless, china rabbit and his odyssey of love and loss is one you won't soon forget so be sure to bring extra tissues. Because it deals with sensitive issues like death and child abuse, it's best suited for kids 7 and up. This is the final weekend, so don't wait to get your tickets.