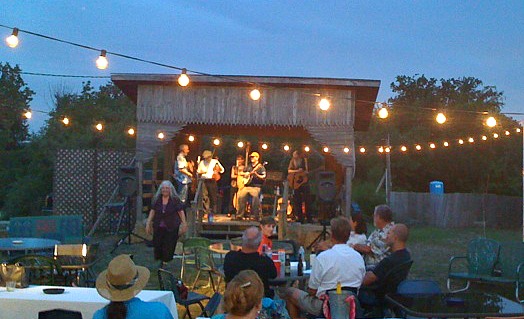 FWWeekly has a cover story this week about the efforts of Hip Pocket's board president, an actor and a musician to save the video record of many of founder Johnny Simons' early stage works, original pieces he co-created with his wife Diane Simons and Hipster's late music director/composer Doug Balentine. The shows were taped by videographer Dwight Welsh who died in a car wreck 10 years ago. His family has offered his archives to the theater company: boxes filled with hundreds of videotapes and audiotapes stacked willy-nilly in a storage unit, some unlabeled, some taped over, many on different formats, some completely unrelated to the Hip Pocket. Simons' own early video archive was mostly lost in a fire at his home 20 years ago. And those surviving tapes were given to Balentine's brother Bruce for safekeeping.
So Bruce and other volunteers launched a Kickstarter campaign — for a surprisingly high sum, $27,000, considering Hip Pocket's low-budget ways — but it was more than reached. Now comes the truly hard part: sorting, cataloging, duplicating, digitizing, preserving, just figuring out what they've got. It's a history not just of the Hip Pocket — which started operations in 1977 — but of the incredibly fruitful, songwriting collaboration between Simons and Doug Balentine, which included forays to the Kimbell and even the Edinburgh Fringe Festival.
What also may happen is a website to display this work — and if money keeps coming in, a commission for Johnny Simons to create a new stage piece about the entire project.
Here's the Kickstarter link, which explains the whole deal. Although the campaign has been concluded successfully, those who may still wish to contribute can send checks to (be sure to include a return address, so you can get a receipt for tax purposes):
c/o Jim Balentine
23860 Iron Horse
San Antonio, TX 78255