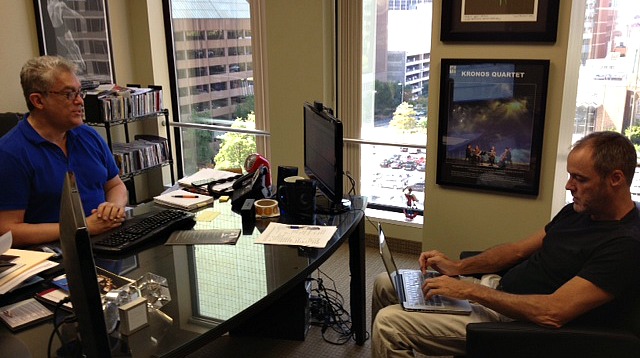 Charles Santos and Gary Floyd in Santos' office – hammering out the music. Photo by Jerome Weeks

Two years ago saw the largest, one-night-only collaboration, ever, among North Texas artists. A dozen area groups and some 200 performers created an AIDS benefit at the Winspear Opera House called A Gathering. Now they're working on a second one. KERA's Jerome Weeks reports.
It all starts with dinner — of pork tenderloins.
It's May 14, and Charles Santos has called a dinner meeting at his house. Santos is the executive director of TITAS, the dance and music presenter at the AT&T Performing Arts Center. It was his idea two years ago to mark the 30th year of the AIDS pandemic with a major performance at the Winspear. He and his fellow producers pulled together singers, actors and dancers from such groups as the Texas Ballet Theatre, Bruce Wood Dance Company, SMU, the Turtle Creek Chorale and the Dallas Opera. In less than four months, they wrote, designed and staged the event.
But as a first-time event — people didn't know quite what to expect — the evening was an artistic knockout while filling only half the Winspear.
"As soon as it was over," recalls co-producer Chris Heinbaugh, vice president of external affairs for the PAC, "people were saying, 'We missed an opportunity here."
So now they're creating another opportunity. Santos has been collecting songs on his laptop for months, possible songs for the show. Over dinner with Heinbaugh and music director Gary Floyd, he trades ideas about who could sing something like a cover of John Lennon's 'Imagine' by Herbie Hancock and India.Arie. Santos wants this second Gathering to open on a quiet note of hope. A single spotlight, a piano and a singer.
"That feel could be really special," Santos tells Floyd. ""Just something simple. And then someone doing an introduction, talking about imagine if, imagine how, imagine what."
Santos devised A Gathering as a 'concept musical' — it doesn't follow a strict narrative with characters. Instead, it has an emotional throughline. For the first Gathering, that was easy enough: It was the 30-year history of AIDS from onslaught and protest through research and recovery. Jac Alder, executive director of Theatre Three, recalls  the '80s and '90s as a time that left the North Texas arts community reeling. "It created so much fear and so much chaos and so much grief. It was overwhelming. We just kept going to funerals — one after the other."
But Santos and Heinbaugh believe A Gathering 2013 can't repeat the first one — it can't simply mark the 32nd year of AIDS. They need a new throughline for the show.
So Santos held a second dinner in June, this time with some 30 artists and AIDS activists. He asked if Heinbaugh could use their stories as raw material to craft this second show. After dinner and wine – and a promise of anonymity – the visitors talked. Horror stories from the early days came out – about preachers denouncing gays in the middle of a funeral. About families refusing to acknowledge what their son or father died of.
But the visitors also reflected on how the gay community, the arts community — how American society — has changed.
But one recent change is the return of HIV. Infection rates are rising. In fact, Santos and Heinbaugh are taken aback by some of what they hear – like younger people dismissing HIV as just something that can be treated with a pill. Women treating safe sex as entirely a male responsibility.
Santos recalls one of the men from an AIDS service organization noting that infection rates are rising in an unexpected population: "Older women who are divorced or widowed. Safe sex was never part of their life, their lifestyle. And all of a sudden, they're out there and they're getting infected. I mean, that's kind of shocking to me."
So the second dinner and these stories provide Santos and Heinbaugh what they need: a focus for A Gathering 2013 and a renewed sense of purpose. Now all that's needed is coordinating some 200 different artists, choreographers, lighting designers, costumers.
Two weeks ago, Santos is in his office doing what a producer does. He recites a list of tasks completed or impending: ordering sheet music and the music charts, sending out postcards and flyers and posters, printing programs, scheduling rehearsals — his list goes on for nearly five minutes — raising money, getting risers built for the stage, creating a 'running sheet' for the show, which lists everything that has to happen (five seconds of this spotlight, remove that podium). He's delegating, checking, hectoring, reassuring. Heinbaugh says, "He gets very bossy."
But then, A Gathering, Santos says, is simply the biggest show's he's ever put on stage: "This is the hardest I've ever worked on a project in my life. And the proudest I've been of it. It was brutally hard work.
"And so much fun."