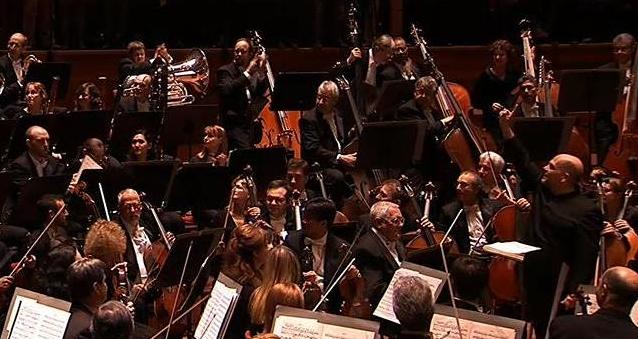 Conductor Jaap van Zweden (right) signals the DSO's horn section to rise and be recognized during the DSO's ovation
The Dallas Symphony is on tour in Europe. Tuesday night, it received an ecstatic response from the audience in Amsterdam's famous music hall, the Concertgebouw. KERA reporter Jerome Weeks talked with Jonathan Martin, the DSO's president who's on tour with the orchestra.
On the live streaming of the Dallas Symphony's performance of Gustav Mahler's Sixth Symphony, you can hear the famous ending that dwindles into pained silence — and then comes one final, symphonic outburst. Then a moment of held breath — and then comes an ovation so long you look at your watch. Don't bother timing it, I already did. It lasted for four and a half minutes. And then came the encore from Wagner's Tristan und Isolde — which got another two minutes of applause. Dallas Morning News classical music critic Scott Cantrell wrote a review the likes of which he rarely pens (" If there was ever a time to be proud to be a Dallasite, it was Tuesday night…. On a stage where Gustav Mahler conducted 11 times between 1903 and 1909, the DSO has never played more electrically, or with as much finely finished detail").
So, Jonathan,  it sounded like conductor Jaap van Zweden, who used to play in the Royal  Concertgebouw Orchestra, got a hero's welcome from his hometown.
Martin: "It was an extraordinary homecoming for Jaap and for the Dallas Symphony. It was almost like you could feel the orchestra going from one stage of its development to another within the same concert. It was that important and it was that good."
Mahler's Sixth requires more musicians to play it. So the DSO naturally sounded richer. But the Concertgebouw itself also inspired the acoustic design of the Meyerson Symphony Center. So how did it sound?
Martin: "That concert hall is such a supporting environment, you could feel the orchestra just nestle into the hall like it was a warm blanket."
During the performance, the live streaming of the DSO on the Concertgebouw website was balky, to say the least. (It will be available for free for 24 hours after the performance — and, last checked, it worked fine.) Were you aware of that?
Martin: "I understand there were some technical things. I'm not sure which end of the ocean that was. But I understood there were some technical issues."
From Amsterdam, the DSO heads to Vienna, then Munich and Frankfurt and Hamburg and Hanover. Why is so much of the tour in Germany?
Martin: "I think the short answer is that there's so many concert presenters in Germany that, as you're making a tour, it's fairly easy to find high-quality concert presenters. But beyond that, the reason there's so many presenters is there's a voracious consumption of classical music in Germany. And Jaap's name is very, very well known."
Thanks and good luck.
Martin: "Thank you, and all my best to Dallas. We'll be back soon."