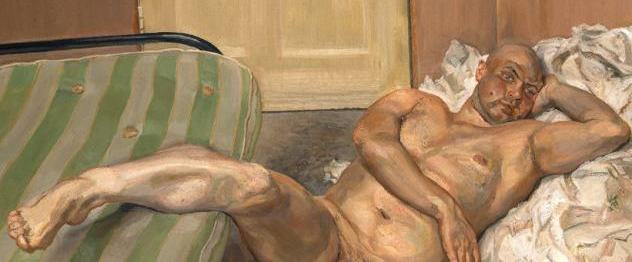 Nude with Leg Up (detail), 1992, oil on linen, Hirshhorn Museum
In a major coup, Fort Worth's Modern Art Museum is one of only two venues in the world — the only one in North America — to host a sizable show of works by the great British artist Lucian Freud. These are the portraits that made the man famous. But KERA's Jerome Weeks reports the exhibition also features the other reason he was famous: his paintings of nudes.
For the past 60 years – during our age of Andy Warhol soup cans and Damien Hirst's floating shark – Lucian Freud painted realistic human figures. He spent his entire career on the traditional portrait, painting just a person sitting in a chair.
But the penetrating concentration Freud directed at his sitters marks his works as utterly modern, a different kind of minimalism. His visceral treatment of skin was distinctive even in his portraits of fully-clothed people. He was unforgiving in capturing their muscle and fat, bruises and sags. He laid them bare.
Freud didn't always paint like this, although even his earliest works have a laser-eyed, OCD quality (below, his portrait of his first wife Kitty Garman in Girl with a White Dog). He painted with a fine sable-hair brush in a manner that recalled Otto Dix. As realistic as it is, there's an element of cool caricature, as if everything were examined under a pale blue light.

It was Freud's friend and fellow painter Francis Bacon who suggested he loosen up his style. Instead of fiercely careful, his brushstrokes became confident. He also switched to a thicker, coarser, hog's hair brush and began mixing and loading it with different colors for every single stroke. He did this, Michael Auping says, because he saw human skin as such a peculiar color, with no one color predominating. So with each stroke, Freud would bring up a different shade, underscoring the blues and greys and greens in a person's skin (left, a detail from Eli and David, 2005-6).
Auping: "When you look at one of Lucien's portraits, and you look at the skin, it really looks like you're seeing through the skin and into the veins."
Auping co-organized Portraits, the major retrospective of Freud's works at the Modern. Auping also co-wrote the accompanying catalog,which includes his rare interviews with the reclusive Freud, who died last July at 88. A few months later, this show set attendance records at the National Portrait Gallery in London.
Auping says the exhibition has more representational nudes in it than any he's curated. Of the 92 paintings in Portraits, more than a third are full-length nudes. Freud painted naked women and men, fat people, skinny people, even his assistant. If Freud updated the conventional portrait with his ruthless gaze, he did the same for the nude.

Girl with a White Dog (detail), 1951-2, oil on canvas, Tate London
Auping steps into a gallery at the Modern to find a painting from 1966 titled "Naked Girl."
Auping: [echoey, walking in gallery] "On this wall, this is literally the first full nude that Lucian does. And it's of an Irish girl that was a girlfriend. And you can see that what Lucian is really interested in is skin. He becomes fascinated by skin as a material, as a covering for the human body."
Human skin became the geography and the psychology of Freud's paintings. A painting of a nude was just a bigger portrait, a portrait with more skin and more paint — and more to reveal about a person. Freud's nudes were sometimes scandalous: They're not idealized classics nor are they sexed-up billboard models. In developing his new style, Freud had switched to a different kind of intense examination. His paintings can look like crime scene photos, with victims and the guilty caught under a fluorescent glare. George Orwell famously said that at 50, a man has the face he deserves. All of Freud's portraits and nudes are acrid demonstrations of this: We cannot escape our flesh, aging, sagging, stretching. Freud can make even the young and lovely look dissected, vulnerable.
Auping calls the entire process of sitting for Freud – up in his cramped little studio – a "visual interrogation."
Auping: "Sitting for Lucien was a very demanding experience. We're talking about three hours a day, twice a week, for six months. And Lucien used to say, "I know I'm so selfish about this, but I have to keep painting.'"
The sessions took so long, sitters often fell asleep on Freud's old couch (Auping estimates almost a third of the people in the paintings are asleep). With so many people revealing themselves sprawling on that couch, it's clear Freud was aware of the inevitable reference (even as a visual joke) – to the psychiatrist's couch of his grandfather, Sigmund Freud.

That's not the only Freudian quality viewers find here – not when Freud spent so many weeks painting nudes of his two wives, several of his many lovers, even a few of his more than 14 children. But viewers actually don't need to know this biographical background to feel uncomfortable with some of these pictures.
Auping: "The erotic quality in Lucian's pictures comes from the feeling of these two people in the room. That's what gives these pictures a psychological charge."
In fact, some women look so forlorn, one can't help wondering about their relationship with Freud. But Auping doesn't accept the argument that these paintings are sexist exploitations. Gender didn't really matter to Freud, Auping says. He painted naked men, dogs, even himself.
Auping: "Lucian's very democratic – everybody gets the harsh light."
And the fact is, the sitters chose their positions. They chose whether to stay clothed or not.
Some even seem perfectly at ease – in their own skins.