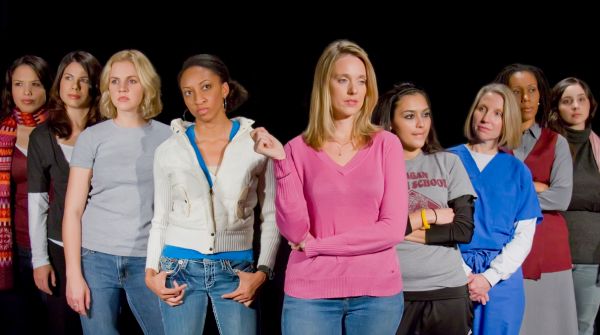 Cast from One in 3 (l to r): Liza Gonzalez, Emily Ko, Shauna McLean, Rhianna Mack, Mollie Milligan, Vanessa Pena, Constance Gold, Renee Miche'al, Jenni Stewart
Excerpt from Jenni Stewart's phone monologue as Rhonda:
This is a scene from the Romanian film, 4 Months, 3 Weeks, 2 Days. (below, featuring Anamaria Marinca and Laura Vasilu). It's set during the regime of dictator Nicolae Ceausescu when abortion was outlawed. Over dinner in a restaurant, two roommates whisper about the secret abortion one of them endured the day before.
[line from the film]
"You know what we're going to do?" The other roommate asks, the long-suffering one who's helped her through the ordeal.
[second line]
"We're never going to talk about this."

Four Months, Three Weeks, Two Days was one inspiration behind the new stage production, One in 3 by the writers Gretchen Dyer, Victoria Loe Hicks and Merritt Tierce. It was part of their inspiration because the film is fairly rare. One of the few other recent treatments of abortion is Vera Drake. Revealingly, like 4 Months, it's a foreign film and a period piece (set in 1950) — meaning it's distanced from American viewers by time and space. And although there is no obscenity, sex acts, bloodshed or nudity, Vera Drake received an R rating from the MPAA — entirely because of its topic and the film's extensive exploration of it.
Thirty-six years after Roe v. Wade, there have been remarkably few treatments of abortion by playwrights or filmmakers. In that time, artists have courted controversy and risked losing audiences with other political hot button issues like AIDS or the war on terror. Yet it hasn't mattered whether the approach to abortion was pro or con or anything in-between. The subject has been relatively shunned by artists.
The other inspiration for One in 3 came from the work playwright Gretchen Dyer has done with the Texas Equal Access Fund. The fund is a non-profit organization that helps low-income women afford abortions. The women, in serious financial hardship, are referred to the TEA Fund. Before she's given financial assistance, though, the woman must answer a few questions — how much money she has, what clinic she's contacted, etc.
The result, Dyer says, is frequently much more information than was ever requested.

DYER: "A lot of times women don't have anyone else to talk to. And it's the first friendly, non-judgmental, safe voice that they've heard. So we get a lot of people pouring out their stories to us."
One in 3 is a collection of scenes based on some of those stories — with names and details changed. It's set in an abortion clinic waiting room. In many scenes, the women feel trapped – by their lack of money. By their own foolishness. By the limited medical choices in a small town.
In one story, a young couple even decides against the abortion. They'll get married.
Dyer insists that the intention behind One in Three was not to make a pro-choice statement. The writers wanted to avoid the familiar political debate. Whether they succeed is another issue. The play presents some 32 characters onstage, with even more in the filmed clips that are presented onscreen. The aim is to offer a wide range of women's experiences, a goal that leads more to character types and quick payoffs than deep drama. Some scenes even play like comic blackouts. Humor is certainly welcome given the topic, but boom, and these scenes are gone.
Of course, just by showing abortion in any sensitive way, One in 3 is more or less a pro-choice statement. It's trying to look past the curtain of shame and silence that has been drawn over the issue, and shame would seem to be precisely what pro-life supporters would want attached to abortion as, for them, a morally abhorrent act.
Dyer says our responses to abortion are often complex and the range of characters is meant to show that. Yet the basic motivation behind the show was fairly simple.
DYER: "The point of the play is just really straightforward. It's like, this is a really common experience. So many women have this experience and yet you wouldn't know it. The political debate is off over there, a bunch of people arguing with each other when, in fact, 38 percent of all American women have an abortion."
The show's title, One in 3, refers to this statistic. It's taken from the Guttmacher Institute, a non-profit reproductive health research organization.
[sound of footsteps on concrete, murmurs]
The theater company Project X is staging One in 3 in a former stone-cutting shop that's called the Green Zone (like the American military-protected section of Bagdhad). Arts patron Claude Albritton — the man behind the McKinney Avenue Contemporary where Kitchen Dog Theatre makes its home — is planning on making the Green Zone a multi-venue complex. The stone shop — with its three large garage doors and its fenced-in parking — sits just west of downtown's Design District in a raw area of warehouses not far from the Trinity River levee (map)
When audience members approach the theater, they're met outside by volunteers playing abortion-clinic protestors.
[chanting, "Choose life!"]
They're also met by people playing clinic escorts, who guide them past the protestors. The protestors were convincing enough that on opening night, January 22, someone in a nearby warehouse called the police to investigate.

Raphael Parry (right) is the founding producer of Project X. His day job is leading Shakespeare Dallas, but he was also the co-founder of the Undermain Theatre. From this, we can conclude that the man seems perennially drawn to gritty, neglected urban areas and adapting them into arts districts. Project X has actually been percolating for a number of years, holding readings and fundraisers in its original home in the Southside on Lamar complex and then workshopping One in 3 in its new Green Zone home. Opening One in 3 is the world premiere of the play and the official debut of Project X itself as a full-fledged, production company.
Parry explains that the audience's "direct experience" and the extensive use of video during the show are all part of Project X's theatrical and multi-media approach.
PARRY: "One of the models is to try to make it experiential. And also to try to include as many other disciplines as we can. We felt that film would be a great way to blend through a production. And we just kind of built out from there. If we're building a clinic, let's make the audience walk through the clinic doors. Let's make sure we have surveillance cameras."
All of this is intended to give One in 3 a feeling of reality, even if some of the characters don't always feel that way.

Jenni Stewart (left) plays Rhonda, the woman trapped in a small town, desperate to find medical help that won't promptly leak the information about her abortion to friends or family.
Stewart is from Waco. And she says she knows people very much like Rhonda.
STEWART: "Where I'm from, there is incredible amount of stigma on the issue. It is grounded in reality for sure."