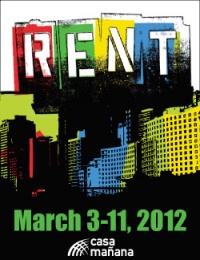 Rent is one of those musicals so packed with memorable songs that you'll have them on a loop in your head for a week after seeing it. "La Vie Bohème," "Light My Candle," "Seasons of Love" – all earworms of the highest order. And exactly the kind of catchy songs any good musical should have.
You'll be able to hear all of them beginning Saturday when Casa Mañana begins its production of Rent. And as it just so happens, we've got two pairs of tickets to opening night to give away. Want 'em? Be one of the first two people to e-mail me (sbecker@kera.org) with "Rent" in the subject line and the answer to this trivia question: "On what day does the story begin?"
UPDATE: Well, that was quick – tickets are all claimed. The answer, of course, is Christmas Eve.