The Art Foundation is a fairly new Dallas artists' collective, an "investigative endeavor employing open intellectual practices." Put another way, it's a brainy outfit — Joshua Goode, Ryder Richards, Andrew Douglas Underwood and Lucia Simek — that likes to think about aesthetic practices, and take them public (the thoughty-ness and the resulting practices). For its first main effort, in April this year, the AF created Fountainhead (above), a bound collection of artists' responses to Marcel Duchamp's pioneering ready-made from 1917, the urinal-turned-on-its-back and dubbed 'Fountain.'  A copy of the over-sized book was acquired by the Nasher — not bad for a group's initial foray.
Wednesday, the Foundation presented "Art in the Public Sphere," an evening of videos, PowerPoint presentations and talks at the McKinney Avenue Contemporary, an evening that seemed to be intended as an informative, provocative prod: These are things people are doing, pop-ups and one-offs and collaborations and stuff, and this is how these things can happen. So why not some more action around here, eh?
In fact, the last speaker, Robert Andrade, made clear one purpose of the evening: He's proposed an earthwork in East Dallas, a proposal the AF is 'facilitating,' a proposal currently on view at Richland College's Brazos Gallery. So the rest of the evening was prelude and context for this, the Foundation's latest project.
The artist/curators detailing their own efforts varied from Cathleen Cynthia Mulcahy — the cheery energy force behind Seventeen Hundred Seeds, the sunflower crop planted in an Oak Cliff city block earlier this year — to Dallas Biennial 2012 or db12, a foursome whose members explained they were "simultaneously embracing and subverting" the biennial concept and tradition by being "an operational hub" that would "dematerialize accessibility" and "operate nomadically" — until Stephen Lapthisophon, one of the four, asked whether we all understood they were talking about a website.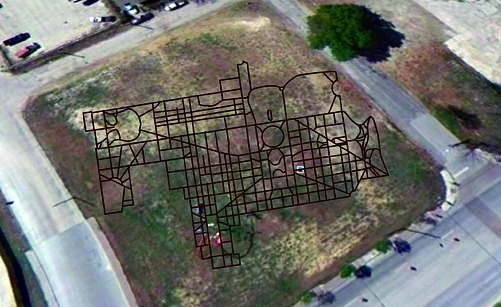 Robert Andrade, Ruined State(s), No. 2, one-quarter acre public earthwork (proposed)

Of course. Naturally. I knew that. What else could it be? (The multi-year mission, the dematerializing, the nomadic nature: I'd been hoping they'd built a Star Trek transporter.) Actually, during the Dallas Art Fair, db12 did produce a non-virtual, re-materialized, operational component-exhibition, so they do not seem averse to, you know, arranging interesting objects in a gallery space for people to see.
As an introduction to the whole evening, Nasher Sculpture Center curator Jed Morse spoke about the tradition of the 'public square' and 'public art,' and he did bring up the internet as the 'new public square,' but touched upon it only briefly at the end of his remarks. It's a whole 'nother dimension and he, like all the speakers, had been given a tight time limit. (Kudos to everyone for keeping to them, by the way.)
Morse smartly opted to focus on London's Trafalgar Square as the historic embodiment of what a 'public square' and 'public art' have meant: They're heroic, equestrian statues of no-one-remembers-who arranged in a flat, open-air, neo-classic, urban setting. What's more, as a public space, TSquare was kind of the Arts District of its age. An early-19th century, government redevelopment project, it involved tearing out what had been the derelict area of Charing Cross (playwright Ben Jonson grew up there) and replacing it with the National Gallery, among other institutions.
So, all in all, the square stands as a projection of earnest, uplifting, imperial, Victorian British values. But as Morse also noted, the Square's long-empty 'fourth plinth' (one of four pedestals for the statues) has led to an official decision that, while deliberations over a permanent resident art-work continue, they'd top off the plinth with some new item, semi-annually. So TSquare has evolved into what the 'public square' and 'public art' have become: an event or 'happening' showcase, a free-speech platform and location for protest demonstrations, a government-subsidized gallery, a site for commercial publicity stunts, whatever.
Which leads me to jump all the way to the end of the evening — hopping over Dallas-native-turned-Austin artist Shawn Smith relating his experiences on his first outdoor public sculpture project in San Francisco (below) as well as a video of artist Claude Collins-Stracensky explaining how to fund-raise. The floor was opened to questions. And the very first one was, Does Dallas even have any public space?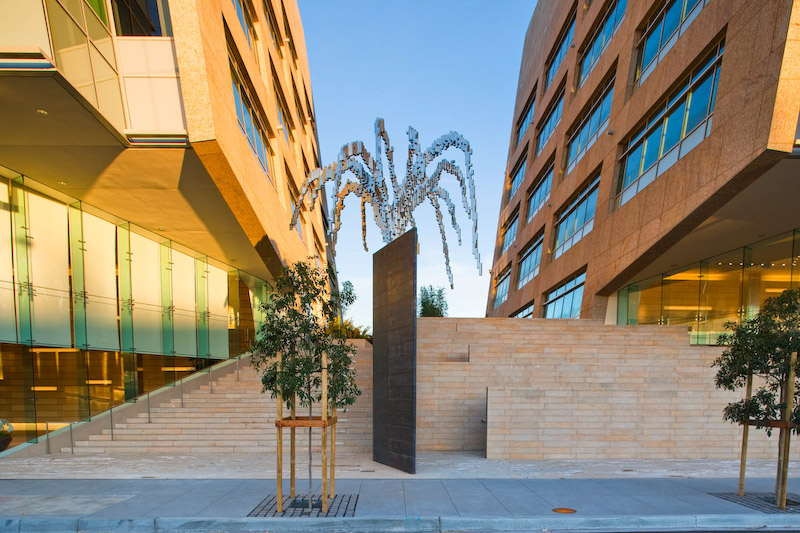 Shawn Smith, Doppel Effect (2008), stainless steel
I realize it wasn't the point of the evening — in fact, strategies for circumventing (or capitalizing on) this situation seemed the point. Nonetheless, a good question, especially when one considers that of the most prominent collections of modern and contemporary art on view in North Texas, one is at NorthPark, the other at Cowboys Stadium, and both locations, of course, are private property.
And these are hardly flukes. Mulcahy's Seventeen Hundred Seeds was on private property, as is the Henderson Art Project. Discussed at the MAC by project coordinator Scott Trent, the sculptures sprinkled along Henderson Avenue was an initiative of Marc and Roger Andres, the two brothers who own most of  the commercial property in the Knox-Henderson area. For that matter, the McKinney Avenue Contemporary itself is privately owned.
Even when a space is officially public in Dallas — like Klyde Warren Park, the city-owned land being built over Woodall Rodgers — it can come with a footnote. Klyde Warren will be managed by the private Woodall Rodgers Park Foundation.
We can certainly argue about whether any of Dallas' public art — public-public and private-public — is any good. In fact, Scott Trent earns high marks for including — as part of his PowerPoint — an image of Lucia Simek's pretty accurate takedown of the Henderson Art Project for Front Row two years ago ("Why did the Powers That Be have to go and tamper with what was going so well on Henderson Avenue and forcibly clonk down some pretty mediocre sculpture?"). When her "Don't Bother" rating appeared on the screen, one couldn't help thinking, 'Here comes the predictable counter-blast from the aggrieved." Instead, the cordial Trent hailed the review for stimulating public discussion of the entire effort. Rather refreshing.
But regardless of whether we like any of the stuff or not, the question is, if a public space and public art are, in part, expressions of civic values — as they are in TSquare — then what is a public space and public art when it's entirely owned and selected by a private firm? For that matter, how is an arts website a 'civic expression'? Outside of the art in DART stations, the Alexander Calder Henry Moore in front of City Hall, the moo-cows in Pioneer Plaza and the striking art deco murals in Fair Park (below), it's actually hard to think of an example of a truly public work of art in a truly public, open-air space anywhere in Dallas. Yes/no? The suggestion box is officially open.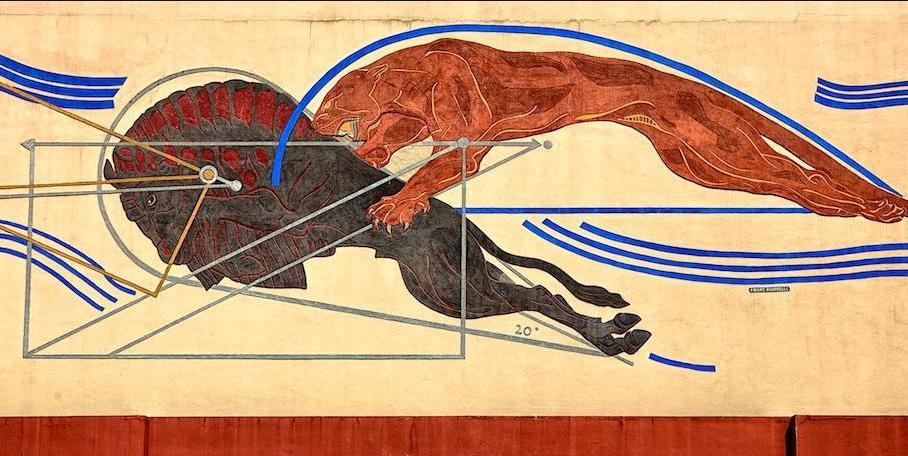 Pierre Bourdelle, Streamline, mural on the Centennial Building, Fair Park
Perhaps if we go back to the purpose(s) of a public space. For centuries, public spaces have been somewhat self-reflexive community expressions, via the government — something along the lines of, "We Admire This Guy (Or Gal) Who Represents the Best of Who We Are" or "Enjoy This Pleasant Plot of Land, Courtesy of Us, to Relax and Be Inspired. But Don't Stay Too Long or We'll Set the Dogs on You."
These are old-fashioned, civic functions, even if the heroic personage is up-to-date and admirable (one proposal for the fourth plinth has been a statue of Nelson Mandela) or the parkscape design is dazzling. It's the functions themselves that have withered. Throughout America, public libraries, public parks and public schools are about the only "public spaces" left in our gated cities. And many of those are closing or cutting back their services because of what seem like eternal budget crises and deliberate 'de-funding.'
This may be a case of America catching up with Dallas.  If a public square is the concrete-and-bronze expression of a community, our aggressive faith in laissez-faire business economics has never put much stock in government or community efforts. Why would we value a permanent, taxpayer-funded expression of such? Sounds like a waste of city revenue.
Not surprisingly, many of the public squares in Dallas turn out to be sun-baked and empty — unless the space has been tailored to improve private business ventures. This is the kind of public-private leveraging for which Dallas has been recognized as a pioneer — starting at least with the Dallas Theater Center's Kalita Humphreys Theater, which was located in 1960 along Turtle Creek in what was then a mostly empty area of town — with the aim of spurring development there. Which it did. The city took the lead in investment, real estate owners jumped at the new market — and the entire city, supposedly, benefited.
But having said all that, I think one reason we're led to these conclusions about whether Dallas even has any truly public art is that in the popular mind, 'public art' has also narrowed to mean a very specific style, artistic medium and location. Public art is (or should be) a permanent, monumental sculpture, prominently sited, usually in an urban setting, and generally a commemoration of someone or something. The work requires impervious materials and a gigantic stature to suggest timeless ideals, the eternal nature of the community and its values (one also can't avoid notions of ego projection and human mastery of the world, let alone embellishment of the historic record).
Not surprisingly, in his intro, Morse segued from the statues in Trafalgar Square to such large-scale earthworks as Robert Smithson's Spiral Jetty and Walter de Maria's Lightning Field. Morse noted these pieces did present a problem as "public" art works — they're almost inaccessible — but they did set up Andrade's proposal for his maze-like project in East Dallas, Ruined State(s), No. 2.

But as the evolution of Trafalgar Square demonstrates, public art and the public square have become much more flexible, immediate — and impermanent, that is, more event- or experience-oriented. With that in mind, there are public spaces for public art in Dallas, starting with the various Cultural Centers (Bath House, Latino, Oak Cliff, South Dallas — all have gallery display space) and moving up to Fair Park and the Arts District. In fact, at the end of the evening at the MAC, I overheard one audience member cite Aurora last October in the Arts District as a chief example of public art in Dallas (the image outfront is from that event).
Which, as public art events go, was pretty darn cool. And proof that Dallasites will actually come out and enjoy public art, even if it's partly as a funhouse novelty, not a statue but a festival, and a festival during a cool-weather month, thank God.
It's an annual festival, though, so that's encouraging. Aurora is planning on returning this fall.